Optimize your merchant transactions with the Kuski payment platform in a secure and dynamic way. Learn how to complete the affiliation process.

Kushki allows you to optimize the transactions that your merchant receives through a payment platform that has multiple integrated payment methods: credit cards, debit cards, bank transfers, and cash. Additionally, we have multiple integration solutions we adapt to the needs of your merchant, such as: API, libraries, plugins, Kajita, payment button, and smartlinks.
Who can Create a Kushki Account for Online Payment Processing?
All kinds of legally constituted companies (individuals or legal entities) that need to sell online easily, quickly, and safely can join Kushki.
Kushki affiliation payment models
Kushki offers your merchant two business models: the Gateway model and the Aggregator business model. In order for you to identify which is the right model for your merchant, we invite you to review the following recommendations:
If you do not have a merchant code, we offer you the Aggregator Model: Kushki will process the transactions you receive on behalf of your merchant. You will avoid spending time waiting for a bank to generate a merchant code for your business, and you will be able to use a merchant subcode provided by us. In this way, you can expedite any chargeback or refund process.
If you already have a merchant code, you can use our Gateway Model: In this way, we will act as your technological facilitator, so you directly receive the money from the transactions you receive.
By joining any of the two models provided by Kushki, your merchant will receive greater security, since we protect you from any suspicious movement or fraudulent activity. If you want to know additional information about the affiliation data, the available models, and their differences in the settlement process, we invite you to review the following video:
Find below the models that are available in each of the countries in which we operate: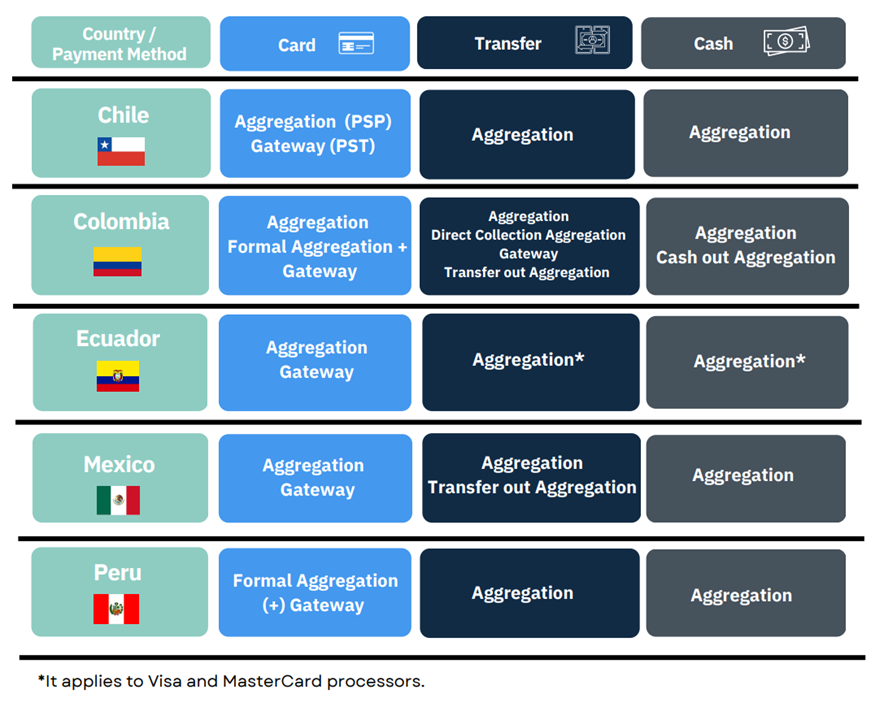 Affiliation step-by-step process
We invite you to review the step-by-step process we include below.
Enter

https://kushkipagos.com/

.
Click the Contact Sales button at the top of the screen.
Complete the general information of your merchant that appears on the screen.
📝 Keep in mind that:
A representative of our sales team will contact you to provide you with personalized attention during the process. We will contact you within a maximum period of 5 business days.
If your merchant is outside of Latin America, we invite you to learn about our Kushki Mundial service offer.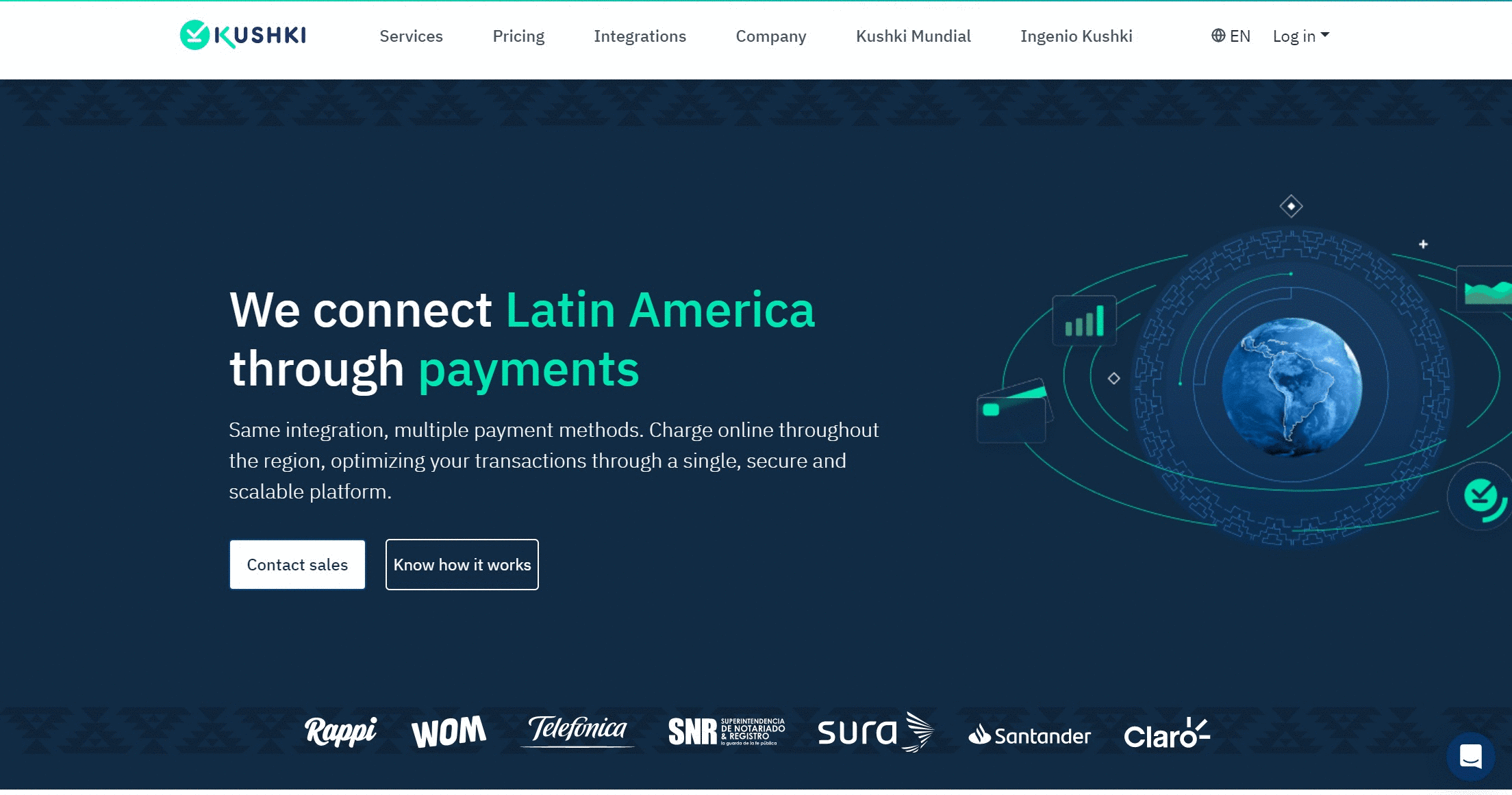 Processing fees
At Kushki, we adapt to your needs and provide you with a commercial proposal for the integration of a payment platform that meets your preferences. For this reason, the processing fees vary taking into account the commercial agreement we have established with your merchant.
From our website, you can find more information related to the following concepts:
Minimum monthly fee: This charge depends on the agreement established between Kushki and your merchant. To check this information, we invite you to contact our Sales Team.
Accepted methods: Our website includes the description of the organizations and financial entities through which transactions are accepted from our payment platform, including each of the different payment methods: debit and credit cards, bank transfer, and cash.
Charges included in the rate: This same site provides information on the services that you will have available when you establish an agreement with Kushki. By joining Kushki, your merchant will be able to:

Make international charges.
Protect your transactions by using an anti-fraud module.
Receive direct advice from a service executive for any question in the integration process.
Disburse money to pay your clients or dependents by transfer or cash. (Available in certain countries).
Provide a unique payment experience and the implementation of a payment link or Smartlink for websites, social networks, or messaging applications.
Access unified reports through the management of your admin console.
Allow payments in installments, immediate payments, or through recurring charges of fixed or variable amounts, depending on the payment methods available in the country where your merchant is located.
Visit the links below for more details:
⚠️ Warning:
Keep in mind that the enabled payment methods and the fee terms may vary according to the commercial agreement established with your merchant. Our sales team will provide you with all the information.
Additional service request
In addition to the variety of services that Kushki offers for your merchant, we can work together to find and design the charging solutions you need for your merchant.
You can make this request once the affiliation process has concluded and your merchant already has an active agreement with us to enjoy the products and services provided by us. This request can be made directly with the Sales Executive assigned to your merchant.
Frequently-asked questions
We invite you to review the content of this section to find out the answers to frequently-asked questions about the affiliation process to our products and services:
Schedule an appointment with an advisor
Considering that the Kushki affiliation process is done online, it is not necessary for you to book an appointment with one of our members of the sales team.
Once you complete the online form and have uploaded the complete documentation to our portal, one of our service executives will contact you within a period of no more than 5 business days.
Cost of opening an account in Kushki
At Kushki, we do not have a registration or membership fee; we only charge a fee per approved transaction. You will find the description of the enabled fees for each country, by following the indications in the Processing Fees section of this article.
What should I do if I have problems with the form?
You need to send us an email to soporte@kushkipagos.com. Please make sure to include the following information:
Customer business name
Attached documents: please include the following information:

Copy of the document of the Legal Representative of your merchant.
Tax documentation that applies to your country.*
Screenshot where you can share the error you are facing when completing the form.
*To know the tax documents that apply to your country, we recommend you visit the following guides for the affiliation process. You will find this information in the Required documents for Kushki affiliation section:
Process for canceling Kushki membership
In case you no longer require your Kushki account, we appreciate you writing to soporte@kushkipagos.com with the cancellation request. Once we receive this request, we will proceed with the cancellation process.
🚨 Important:
We recommend you validate the billing that your merchant has active with Kushki. Your merchant must not have any outstanding amounts before you make the request to cancel the affiliation.
Kushki membership cancellation fee
At Kushki, we do not charge you additional fees for the request you make to cancel your Kushki account. You can cancel your account at any time and without any penalty.
Additional recommendations
We invite you to check the affiliation process guide which applies for each of the countries in which Kushki operates. You will find relevant information to successfully carry out the affiliation process with us: